Literature and Interdisciplinarity
Online! 20 – 21 October 2021!
Thank you for your enthusiasm!
We are happy to announce the accepted titles to present on the conference days. 🙂
Abstract submission is CLOSED! You can still participate in the conference as participants.
The guides for uploading the presentation videos is available in the Guides and Tutorials section below.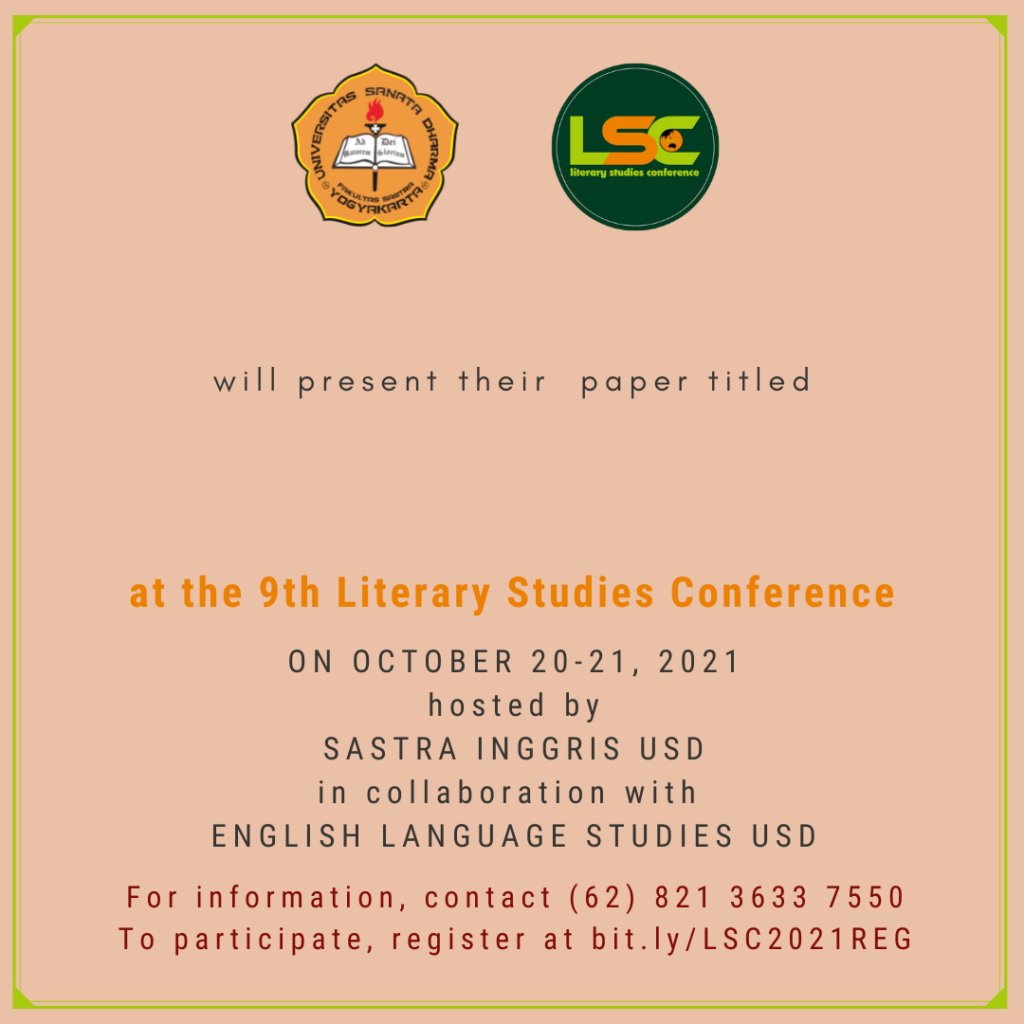 You can get the Individual Presenter Poster as seen here by clicking the following button and filling the form. We will send you the poster with your name and paper title on it. 🙂
Submitted articles will be published in LSC Proceedings and those selected will have the opportunity to be reviewed and published in the SINTA-indexed Journals: IJHS or JOLL.
Links to the journals:
General Attendees and Doctoral Students: IDR400,000
Master's and Undergraduate Students: IDR200,000
Payment can be made with a bank transfer to CIMB Niaga Bank
Account name: th. enny anggraini
Account number: 705715289900
SWIFT CODE: BNIAIDJA
The 9th LSC invites students, scholars, thinkers, researchers, writers, and experts in ecology, ethnicities, gender, radicalism, diaspora, poverty, digital revolution, linguistics, history, philosophy, psychoanalysis, education, translation, and other areas to critically think that goes beyond linear and unidimensional perspectives and approaches. 
The theme Literature and Interdisciplinarity along with its nine topic areas reflects the interconnected and interdisciplinary nature of the 9th LSC. 
The aim is to critically look at how interdisciplinarity in literary studies has shaped the scholarship today and explore the production of the new cross-disciplinary integrative knowledge.
TOPIC AREAS (Include but not Limited to)  
Literature and Science,
Literature and Politics,
Literature and Medicine,
Literature and History,
Literature and Law,
Literature and Ecology,
Literature and Translation,
Literature and Education,
Literature and Theology. 
Abstract submission deadline: 30 June 2021
Abstract acceptance notification: 17 July 2021
Presenter's and participant's registration deadline: 15 September 2021
Full paper submission deadline: 15 September 2021
Presenters' video submission deadline: 25 September 2021
Conference day: 20 – 21 October 2021